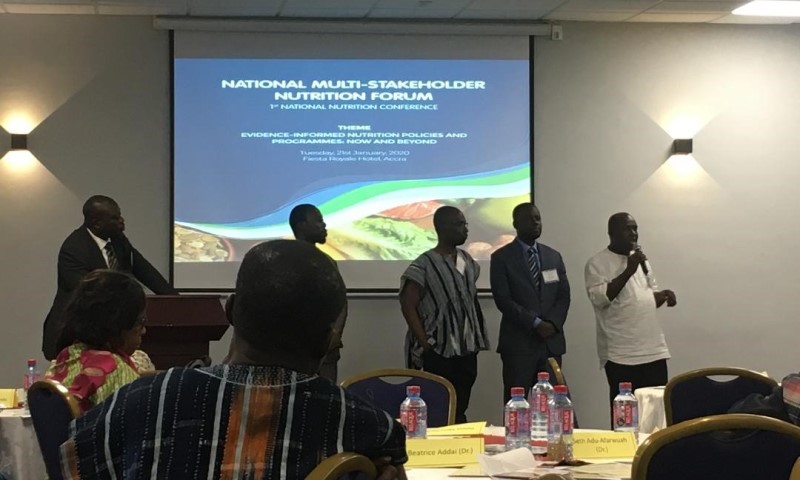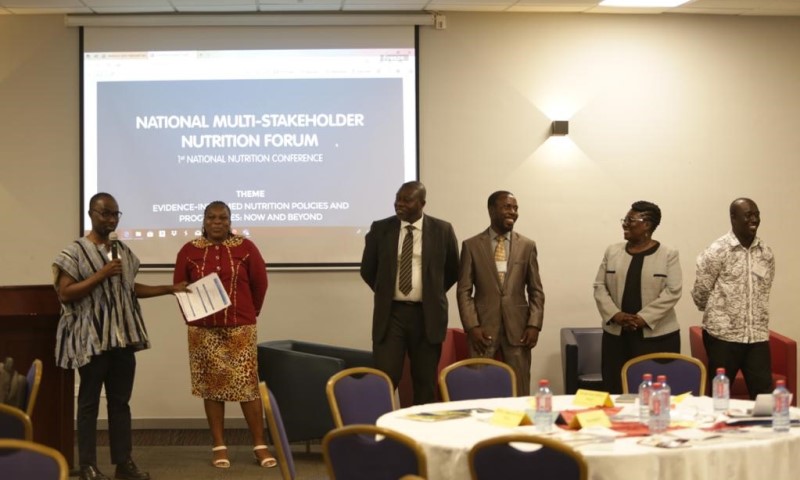 IDRC-funded MEALS4NCDs Prevention Project, and other stakeholders – the DFC, TACLED, the Stories of Change, and the Adolescent Food Environment Projects (all of the University of Ghana), the ROFE Project of Kwame Nkrumah University of Science and Technology, Ghana Strategy Support Program, SNV Netherlands Development Organisation, the University of Health and Allied Sciences, the Ghana Academy of Nutrition and Dietetics, International Food Policy Research Institute (IFPRI), and National Development Planning Commission (NDPC), on Tuesday, 21st January 2020 co-delivered a National Multi-Stakeholder Nutrition Forum and Ghana's first National Nutrition Conference in Accra, Ghana. The conference brought together researchers and key stakeholders from across various sectors in nutrition to discuss and share experiences of various nutrition research conducted in Ghana. The overarching goal of the Forum was to inform nutrition policy.
The Conference was attended by about 100 individuals from various Ministries, Departments, and Agencies (e.g. Ministry of Planning, Ministry of Health, Ministry of Food and Agriculture, Food and Drugs Authority, Ghana Health Service, National Development Planning Commission, Ministry of Gender, Children and Social Protection, Ministry of Local Government and Rural Development, Food Research Institute, Council for Scientific and Industrial Research, Ministry of Finance); NGOs (including Vision for Alternative Development, the John Agyekum Kufuor Foundation); representatives of United Nations Agencies (UNICEF, World Food Programme, World Health Organisation); Civil Society Organisations ; Academia; and the media.
The conference, themed "Evidence-Informed Nutrition Policies and Programmes: Now and Beyond'' had presentations covering actual and potential contributions of studies on undernutrition, and the Food Environment in Ghana.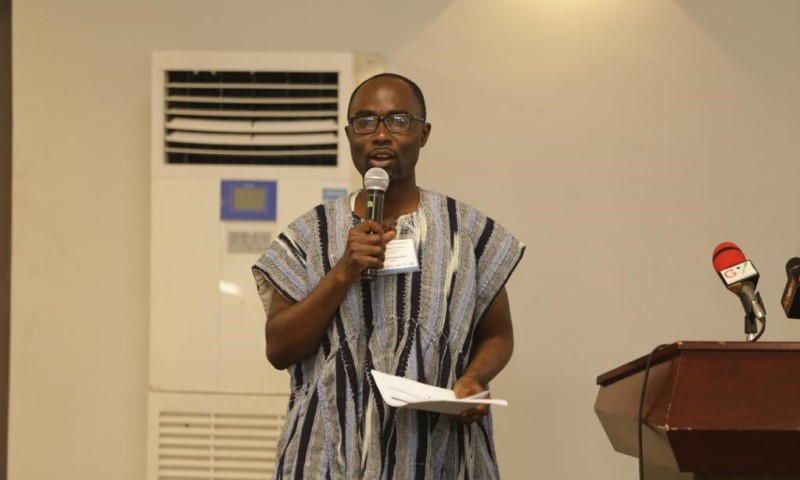 Kick-starting the presentations, Professor Richmond Aryeetey, Principal Investigator of the Stories of Change Project, shared with participants efforts and progress made over the past decade in reducing the prevalence of stunting and anaemia in Ghana. He noted that although the prevalence of stunting had significantly reduced, there were still significant disparities across the different regions of the country. More efforts are needed to combat stunting, and even more to address micronutrient deficiencies, particularly, anaemia, which had only declined marginally over the study period. Participants of the conference deliberated on these findings and attributed the changes in the malnutrition indicators to key nutrition interventions and programmes, nutrition advocacy and prioritisation within the health sector, among other factors.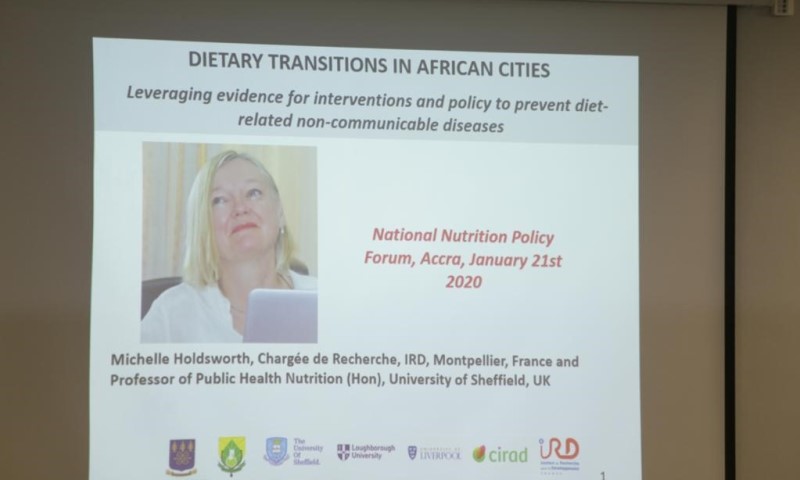 Professor Michelle Holdsworth, Principal Investigator of the DFC/TACLED Dietary Transitions in Ghanaian/African Cities Projects, virtually delivered a presentation on the key findings of the DFC/TACLED projects, which sought to investigate current food consumption and dietary practices in urban cities in Ghana (specifically Accra and Ho) and  in Kenya, as well as the factors that influenced them. The projects' overall goal was to identify context-specific interventions for healthier diet promotion. Notable among the findings from the DFC/TACLED projects was the widespread consumption of foods that contribute to weight gain, specifically, energy dense nutrient rich foods (such as mixed traditional dishes rich in fats and oils, proteins and vegetables) and energy dense nutrient poor foods (such as fried foods, processed foods, and sugar-sweetened beverages); and a predominance of advertisements on alcohol and sugar-sweetened beverages in the Ghanaian cities. Major drivers of food consumption and eating habits identified by the study included the role of food vendors, financial access, and convenience and accessibility of foods. Professor Holdsworth concluded her presentation by highlighting priority areas for policy action, including the introduction of legislation to support the promotion and sale of healthy foods and beverages, and to discourage the promotion and sale of unhealthy foods and beverages, supporting healthy meal planning for school food programmes and providing support for nutrition labelling and advocacy.
Presenting on the Adolescent Food Environment Study in Accra, Professor Aryeetey described adolescents as a neglected research group and called on researchers to undertake more research concerning adolescents in Ghana.
The ROFE study, which investigated the drivers of the food environment and potential policy opportunities in South Africa and Ghana collaborated the findings of unhealthy food environments observed in the DFC/TACLED projects, emphasizing the urgent need for interventions to improve the promotion, availability and accessibility of healthy foods.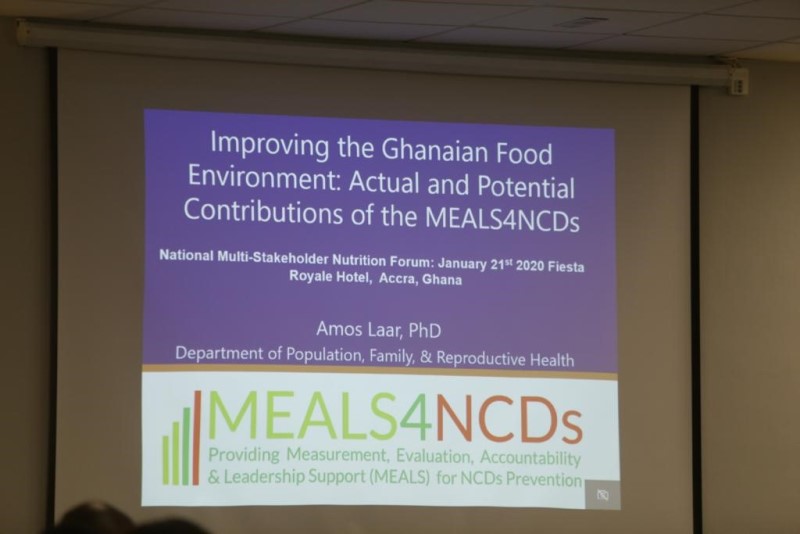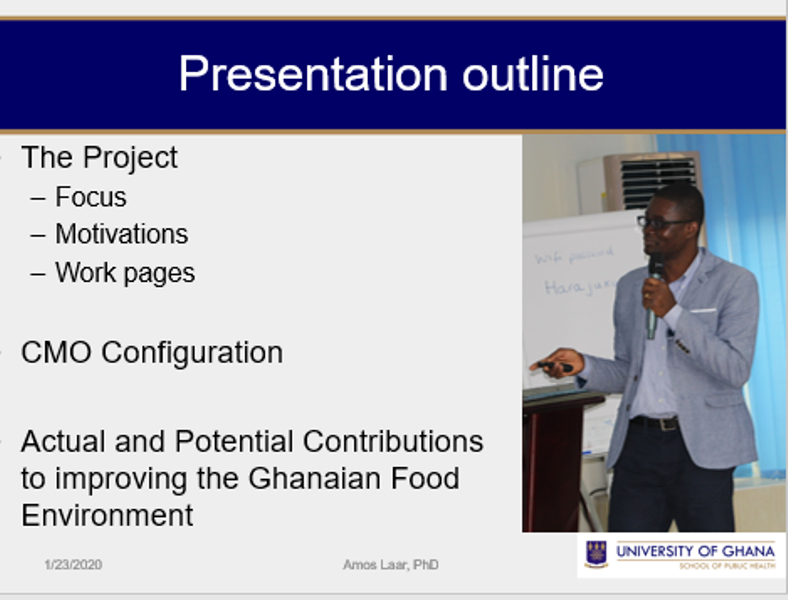 The MEALS4NCDs Prevention Project Principal Investigator, Dr. Amos Laar, in a virtual presentation, provided an overview of the MEALS4NCDs project, which seeks to provide Measurement Evaluation, Accountability and Leadership Support (MEALS) for NCDs prevention in Ghana and beyond (more details here: https://www.meals4ncds.org/en/project-overview/). He mentioned that the project was a deliberate response to the global call for the introduction of food environment policies that impact population health. Thus, the focus of the MEALS4NCDs Project is on restricting unhealthy food marketing to children and improving school nutrition environments.
Focusing on the actual and potential contributions of the MEALS4NCDs project, Dr Laar highlighted some achievements of the project since its launch in August 2019,  including the successful organisation of a workshop that strengthened the capacity of the project team to implement the INFORMAS Modules on Food Marketing and Provisioning, and continued engagements with a broad range of stakeholders such as various government Ministries, Departments and Agencies, Lawmakers, policymakers, programme implementers, civil society organisations, international organisations/United Nations Agencies, local and international researchers. The project aspires to activate relevant food environment improvement tools such as policies, regulatory, fiscal, and legislative tools toward making unhealthy foods unaffordable and unattractive while making healthy food attractive and affordable.
Hoping to scale up and scale out best practices, the MEALS4NCDs project, has formed the African Food Environment Research Network (FERN). FERN will be launched sometime in September 2020 and will lay the foundation for robust and innovative implementation of food environment research and practice in Africa. For details on FERN visit https://www.meals4ncds.org/en/fern-initiative/